Teatro Massimo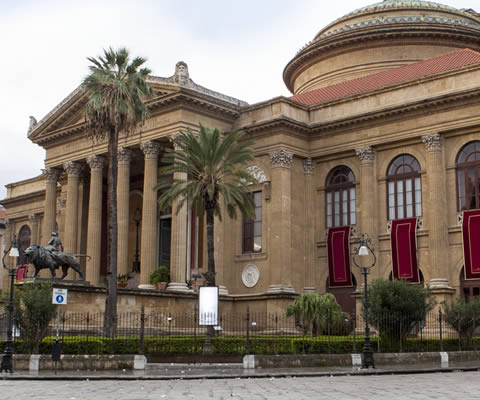 A bit of History and Art
Built in 1864 in an air of hinge between the old and the new city it is considered one of the most beautiful theaters in Europe.
Elevated on a wide staircase, it has a high body behind it, ideal for hosting complex stage machines.
Conceived according to shapes that reflect a harmony between the spirit of lyrical opera and the romantic musicality of the period, "Il Massimo" stands out for its Greek rigor with the dynamics of the volumes typical of Roman architecture. On the large room of 450 square meters overlook 5 rows of boxes and the gallery for a total of about 3200 seats.
Closed for restoration in 1974, the theater was reopened on May 12, 1997 on the occasion of the centenary of the inauguration.
Today
The theater is open until late afternoon for guided tours ideal for discovering the Great Hall, the Salotto annexed to the Royal Box, the Pompeian Room and the Coat of Arms in addition to the Foyer.
Also you can visit the Terrace above the Dome that rises above the city offering a unique view and a breathtaking view.
As for the concert and opera season there is a big news regarding prices. in fact the under 35 will pay the cost of the first to 50% and can also subscribe with large discounts compared to the base price. Also inaugurated the Children's workshop at work, active Sunday afternoons, ideal for families who love opera and dance.